Custom Connector and Wiring Loom Service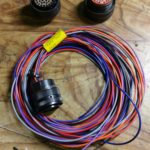 Simulator Solutions provides genuine MIL-SPEC connectors and a custom pin and wiring service to produce cabling that meets the exact needs of your simulator.
The connectors feature new pins connected to new, easy to work with 20 AWG wire in the length you specify. With a choice of up to 20 different wire colours troubleshooting and wiring your simulator has never been easier.
Simulator Solutions can also exchange, re-pin and create looms with your existing connectors to your requirements.
Custom Connector and Wiring Loom Features
Genuine connectors that mate with your genuine panels
Pins in the correct position to meet your requirements
Wiring that is the right length for your installation
20AWG PVC coated multi-stranded tinned copper wire (much easier to work with than the original aviation/aircraft wire)
Up to 20 different colours of wire available in a single loom
All wiring looms labelled with plastic coated labels
Complete wiring summary for your reference and records
All connectors are overhauled and tested prior to dispatch
All looms are manufactured using genuine equipment and to the correct technical standards

Pricing
Since each connector and loom is a unique combination of pins, wires and length, pricing will vary accordingly. As an indication, a 24 pin connector with 3 metre loom consisting of 10 wires is approximately US$65. Pricing will vary based on connector size, number of pins, length of supplied wire and number of connectors in each order.
For more information, to place an order or obtain a quote, please Contact Us and include as many details as possible in your enquiry.
Please Note: All supplied connectors are non-certified rotable components and are no longer suitable for use in aircraft.