SimStack Motor Driver Expansion Board
The SimStack Motor Driver Expansion board has been created to allow the control up to 8 small DC motors. This is a very flexible board that can find many different and innovative uses in any simulator. Up to four of these boards can be stacked on top of a SimStack Foundation Board or other SimStack Expansion boards.
Each motor can be controlled in speed and direction as well as being commanded to freewheel and brake, depending on the requirements.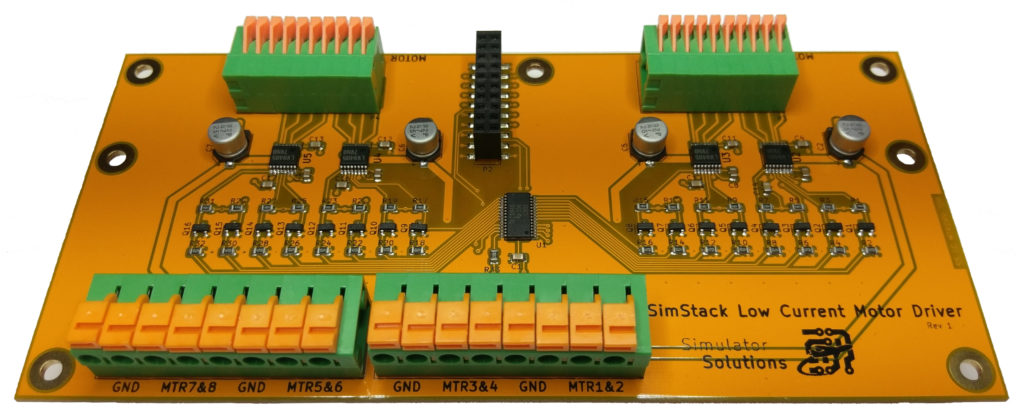 This board uses a standard H Bridge on each channel. Some examples of how this hardware can be used are listed below:
Operate small motors attached to gauges such as an altimeter or trim gauge
Operation of Low current Stepper Motors
Control Air core motors (Sin & Cos), such as those found on car instrument clusters
Single direction resistive gauges, such as a temperature or pressure gauge
Bi-directional resistive gauges such as a turn or slip indicator or Zero Centre ammeter
SimStack Motor Driver Expansion Board Features
Up to four different supply voltages

Voltage range of 4.5v to 15v

Up to 8 independent motor output channels

Each motor can be controlled in both speed & direction
Outputs have the ability to freewheel or brake
Up to 1.2A per channel

Up to 7 SimStack Motor Driver Expansion Boards can be added to a single SimStack 1
Dimensions: 160mm wide, 75mm high & 15mm thick
Available with Spring loaded connectors or optional Wago Pluggable Headers
Hardware Price from: US$95.00*
To purchase SimStack boards, request a quote or for more information please use our Contact Us form.
1 Total expansion capacity will vary depending on configuration
* Pricing is indicative, subject to change and does not include shipping, tax or other duty charges.