SimStack Stepper
SimStack Stepper features an Ethernet controlled Stepper Motor with angular position accuracy of 0.1 degrees. This product builds on the Tropical Labs Mechaduino by introducing an Ethernet connectivity that integrates directly with SimStack Switch.
The SimStack Stepper is coupled to a NEMA 17 stepper motor with a built-in Hall Effect sensor to provide accurate position data in a closed loop format.
Our solution can support both directly coupled and geared installations and owing to the close loop design, the motor will never lose steps. This introduces a new level of accuracy for analog instruments.
When used in a directly coupled configuration, no external position sensing hardware is required. Geared installations will require an external position sensor which can be a 10 turn potentiometer, a physical switch or optical sensor.
Customised firmware is provided to suit each installation where SimStack stepper is used, such as;
Artificial horizon – roll control
Analog altimeter
Pressurisation Gauge
Whiskey Compass
Airspeed indicator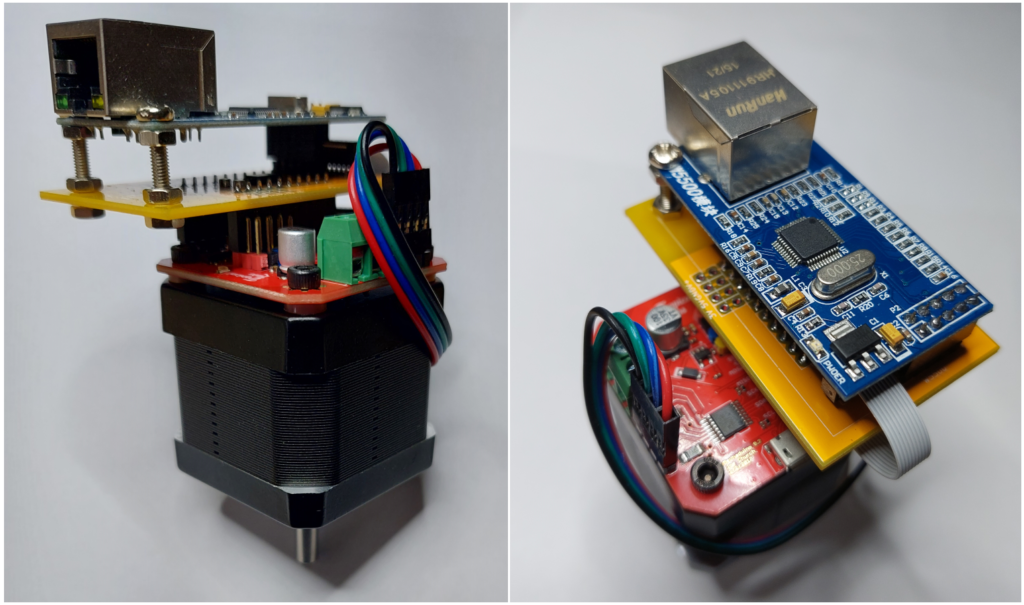 SimStack Stepper Features
Rotational position accuracy down to 0.1 degrees
NEMA 17 Stepper Motor
Single 12V Supply
Ethernet connectivity
Motor Specifications

Torque 42N-cm
Current 1.2A / phase @ 3.6v
Shaft diameter 5mm (flatted)
Motor Dimensions: 42mm x 42mm x 38mm
Customised Solutions from US$180.00*
To purchase SimStack products, request a quote or for more information please use our Contact Us form.
* Pricing is indicative, subject to change and does not include shipping, tax or other duty charges.