SimStack Foundation Board
The Simulator Solutions SimStack Foundation Board is the basic building block of the SimStack family.  The SimStack Foundation Board uses an ATMega based microcontroller and a full Ethernet interface for communication with your network. Each SimStack Foundation Board contains 16 digital input terminals and 8 PWM enabled output terminals.  The SimStack Foundation Board also houses an external SPI interface and provision for Analogue inputs. Additional SimStack Input and SimStack Output boards can be stacked on top of the Foundation Board to form a fully populated SimStack which will provide a total of 128 Inputs and 120 PWM enabled outputs. The new SimStack ARINC and soon to be released SimStack Synchro boards stack directly onto the SimStack Foundation Board to provide additional flexibility to the SimStack Solution.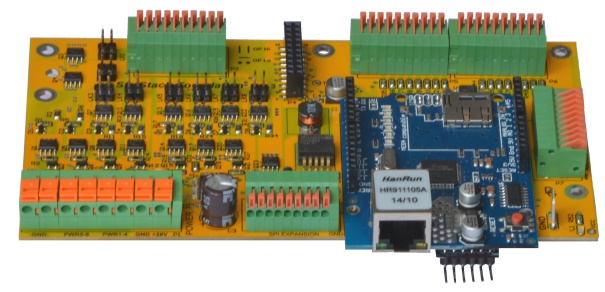 SimStack Foundation Board Features
Arduino Pro Mini compatible processor and Ethernet hardware
16 digital inputs
6 analogue inputs
8 digital outputs with 4096 steps of PWM
Native in built H-Bridge for direct motor control
Spring loaded connectors for ease of use
Support for up to 4 SimStack Input Boards – to provide a total of up to 128 inputs [1]
Support for up to 7 SimStack Output Boards – to provide a total of up to 120 outputs [1]
Connectors for adding additional external SPI bus devices
Connectors for adding analogue input devices
Power inputs on the board edge –

 7-32vDC (required for board operation)
2 additional voltages (0-32vDC for outputs 1-4 and 5-8)

Maximum current draw – 3A per channel and 20A total per board
Outputs channels are set in two blocks (1-4 and 5-8)
Dimensions: 170mm wide, 110mm height & 25mm thick
Provided with M3 spacers, nuts and screws for ease of mounting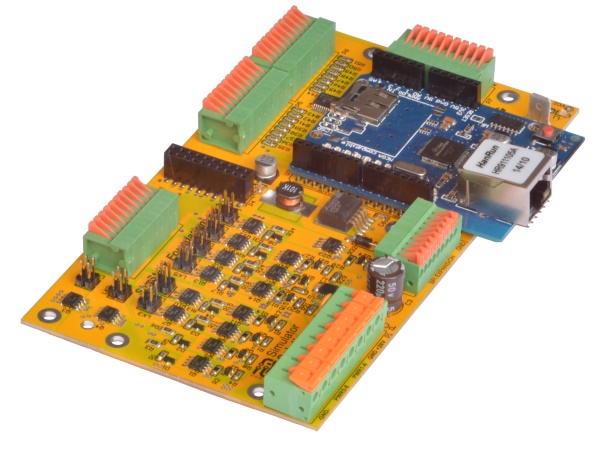 * Prices subject to change and do not include shipping, tax or other duty charges.
[1] May be lower depending on attached hardware and software interface