SimStack MCDU (747-400)
SimStack MCDU is a genuine Honeywell Multi-Function Control and Display Unit that has been modified by Simulator Solutions for use with Aerowinx PSX.  Each MCDU has been acquired as a rotable spare part and converted using Simulator Solutions SimStack technology.
SimStack MCDU (747-400) Features:
Full original internal backlighting, with dimming controlled directly by PSX
Functional original annunciator lights (MSG, EXEC, OFFSET, FAIL, DISP)

Including bright and dim settings and full MD&T features controlled directly by PSX

Fully functional genuine tactile keyboard with backlighting
New 5.6" LCD display (800 x 600 Resolution) with protective glass covering
Accurate screen dimming controlled directly by PSX via the Brightness Knob
Original DZUS Rail Connectors & handle
Genuine OEM case size for installation into centre pedestal slots
Ethernet, VGA and 4 pin Molex style power connector for simple integration to PSX.
At the heart of each SimStack MCDU is a dedicated SimStack Foundation Board that controls all inputs, annunciators and backlighting. 
The SimStack Foundation Board is connected using our standard Ethernet interface that allows seamless integration with PSX.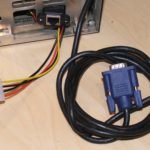 Full instructions are supplied with each unit to guide you through the process of connecting your SimStack MCDU to your network and updating the configuration file.  To assist in the configuration of the units, a bypass switch is provided to ensure the LCD remains powered during setup.
Whilst the insides of the SimStack MCDU are all brand new, the outside of the unit is in an as removed condition.  Simulator Solutions rigorous testing program ensures each unit is fully operational prior to deliver.  However as these are genuine units as removed from aircraft, there will be marks and evidence of previous repairs on the face of each unit.  Simulator Solutions can provide instructions should you wish to conduct a full restoration if you desire a unit that doesn't display the patina of use.
Low Stock
Price US$1,800.00